Latex Heaven in Hoensbroek!
Singletail Whips are a Way of Life!
The World Of Electro Play!
lets pump it up!

LA Pump offers high-quality pump products for men and women. These products have been proudly made in the US for more than 20 years and are well known around the world as the leading brand in vacuum penis pumps.
L.A. pump designs its products with safety, comfort and maximum penis enlargement in mind, using the latest technology in penis enlargement. They offer a unique line of handmade, diamond-cut, polished cylinders for enlargement of the penis, penis and balls, nipples and foreskin through hyperemiation (vacuum pumping).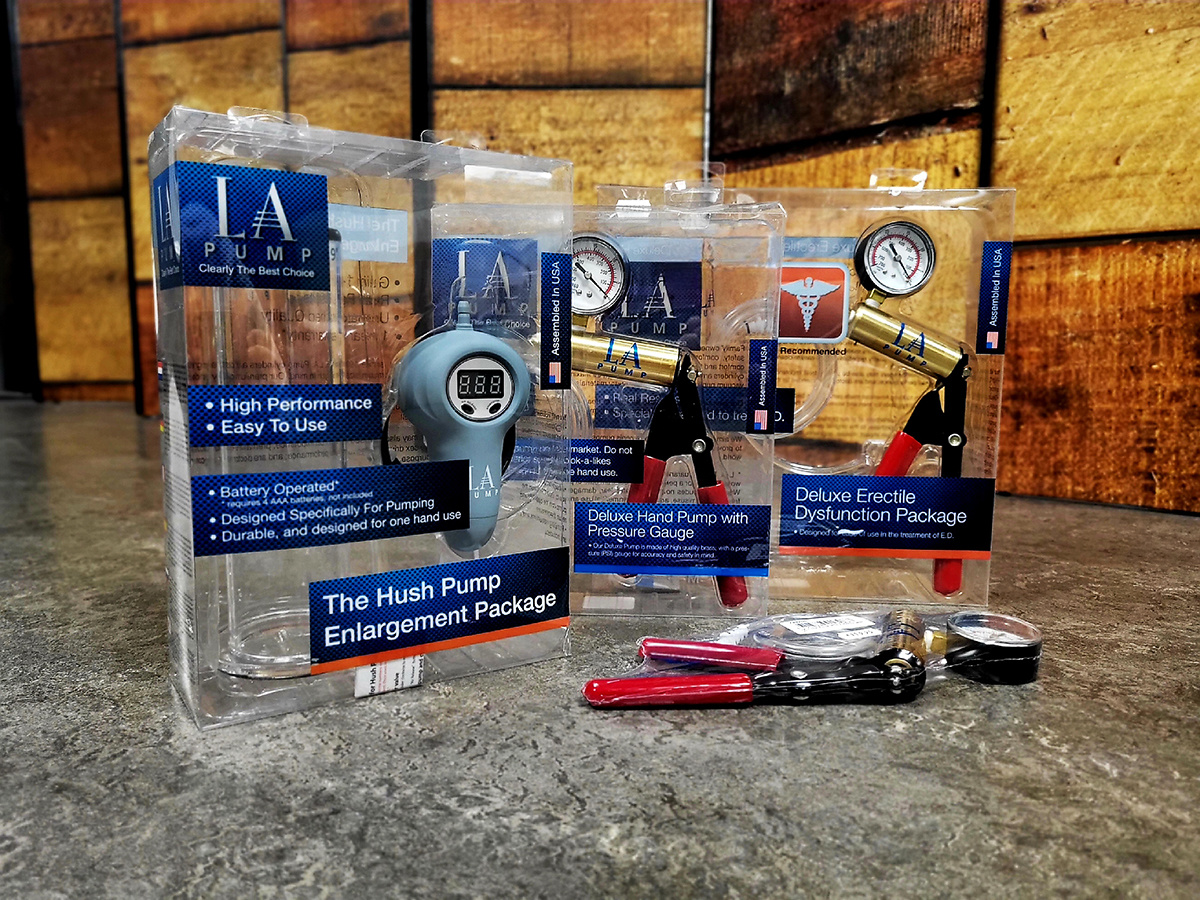 An erection pump is an alternative drug-free medical device that if used properly is very safe. As with any drug, it is important not to use the product other than as recommended. At Yourlifestyle, we can give you specific advice and help you choose the perfect pump to suit your needs.
For example, research shows that an erection pump is 80% to 90% effective. Moreover, with an erection pump, men can enjoy sex for up to 30 minutes without the side effects and costs of viagra or other erection drugs.
In our showroom at koumenweg 3, you will find different types of penis enlargement pumps that can be used interchangeably with any of the cylinders, or for any of the male or female LA Pump products.
The manual wet or dry pump is designed so that you can use it wet in the bath or shower but is also suitable for dry pumping. The deluxe penis enlargement pump with gauge meter can only be used for dry pumping. This is because the gauge is not waterproof so, like the electric penis pump, it should only be used in an area where there is no water. If you want completely effortless pumping then the electric pump is the product for you. It features an automatic safety valve to ensure safety and satisfaction.
vacuum pumps are suitable for men who want a natural improvement in the length and width of their penis, men with erectile dysfunction who want to get an erection without erectile pills and men with Diabetes and erectile dysfunction who need help getting and maintaining an erection.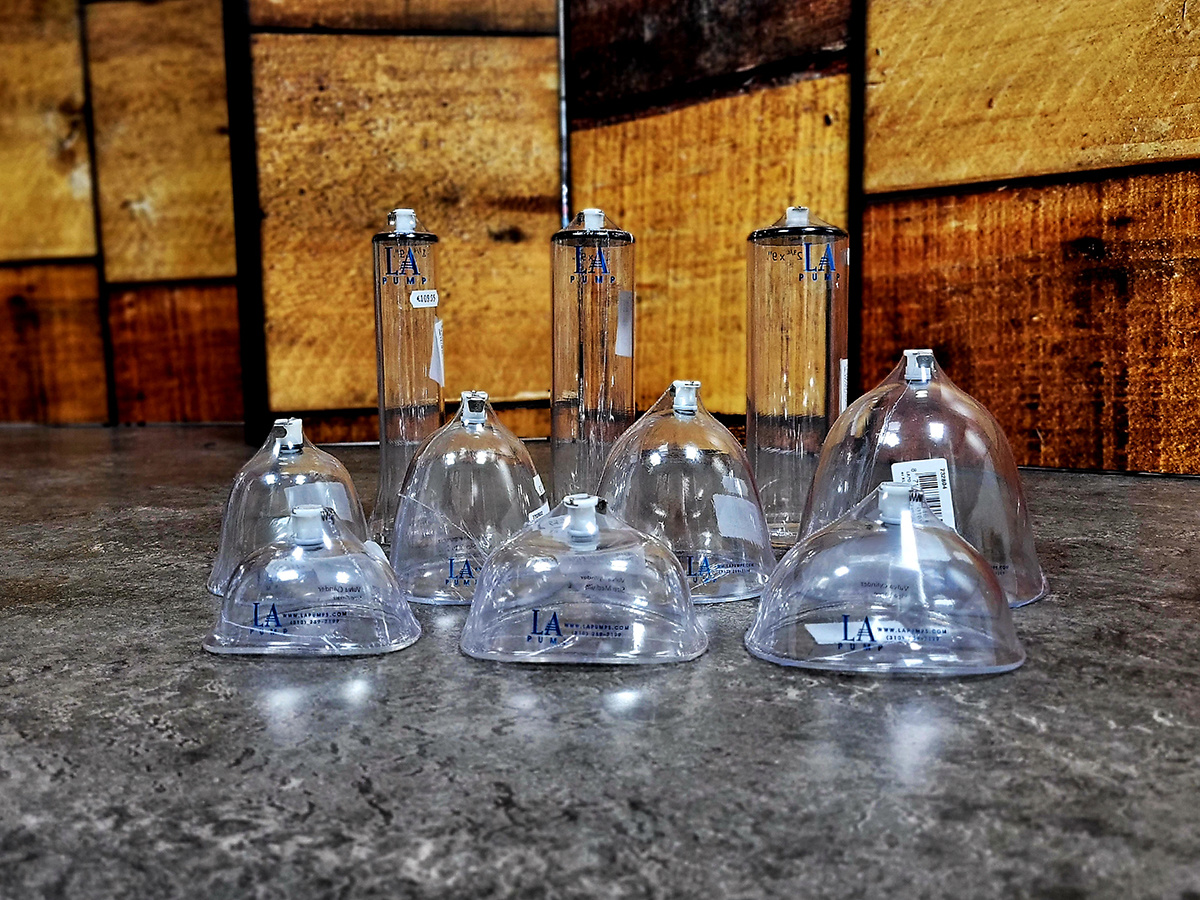 The principle of pumping is actually quite simple, a transparent cylinder, usually made of acrylic, is placed around the penis. At the end of the cylinder, a hose is connected to a hand pump or an electric pump, which removes air from the cylinder. As the air is removed from the cylinder, the penis is pulled further into the cylinder and towards the walls of the cylinder, making the penis bigger. The underlying science is you can also train the tissue of the penis.
By forcing blood into the corpus cavernosum, the tissues and ligaments are stretched. This stretches the tissue around the chambers, called the tunica albuginea, allowing more blood to be stored in these chambers in the longer term, resulting in a longer, harder and thicker erection.
Most men report a significant increase in size, both during pumping and between pumping sessions. Regular use of vacuum pumping gently stretches the supensatory ligament, so think of it as the workout for your penis. In fact, most men report permanent results after about a month of regular training.
If you have any doubts or questions, feel free to come in and we will discuss your options together.
-------------------------------------------------------
Shunga erotic art

With our shop full of the nicest, tastiest and most exciting items, you might not realise it, but the most fun to share with each other still remains your partner's body.
And your partner and yourself naturally deserve the best quality. Give your partner's body the attention it deserves. For instance, how about surprising each other with a sensual massage? In our opinion, a good erotic massage oil is therefore a must-have for the cold dark days. Enjoy a wonderful sensual, erotic massage in a warm, candlelit room. Where scent, sensation and all the senses are stimulated. Especially for that, in our showroom at Koumenweg 3, we have wonderfully scented massage oils from the Shunga brand.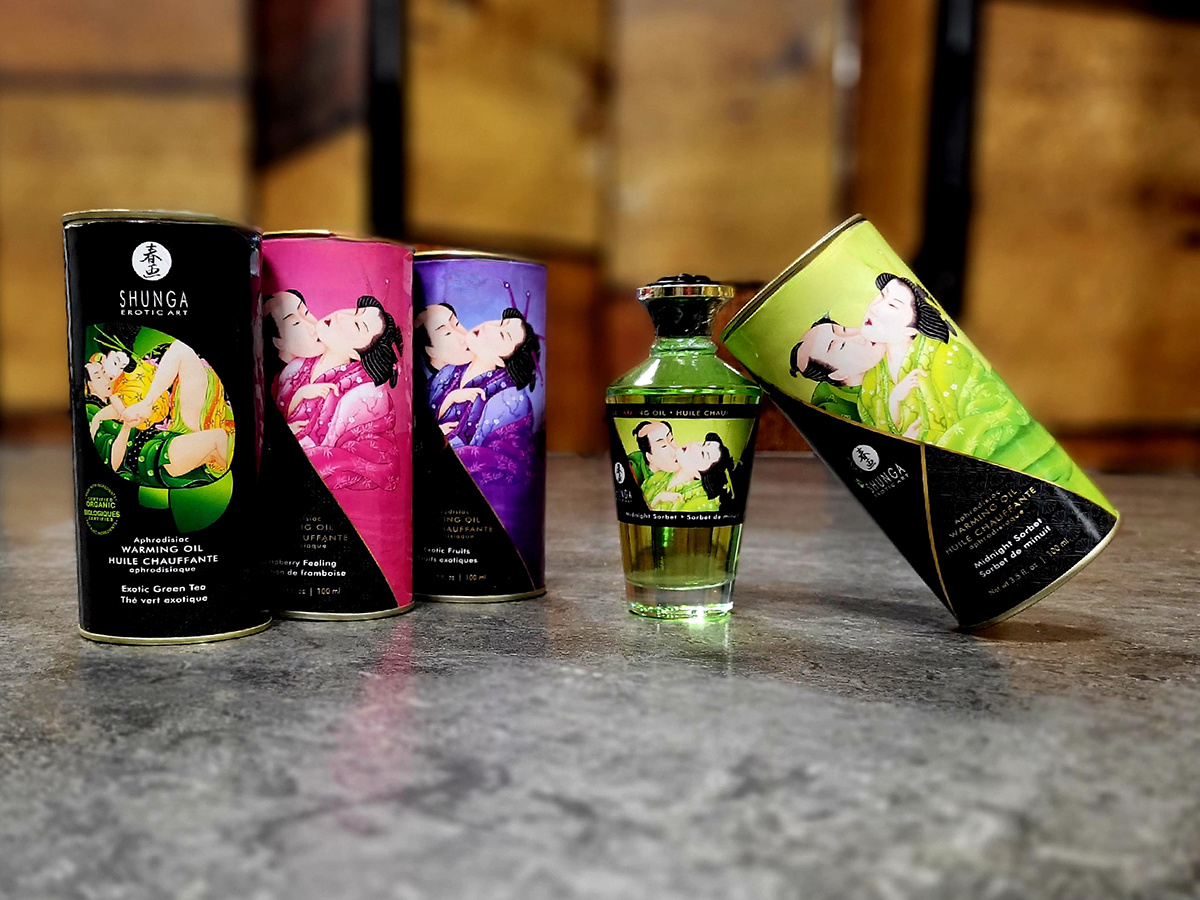 Shunga Erotic Art's mission is to provide quality products to enhance intimacy for couples who want to add variety and sensuality to their lovemaking. According to them, there is a sensual and sexual being in everyone who wants to satisfy their partner and reach new levels of intimacy. As far as Yourlifestyle is concerned, we can only agree.
The packaging also exudes this sensuality and eroticism. Fitted with stylised Japanese illustrations, they are thus already a feast for the eyes. Moreover, the products are all animal-tested and gluten-free.
What does such an erotic massage oil actually entail?
These oils are based on 100% natural cold-pressed oils, vitamin E ( antioxidant) and with libido stimulating properties. The great thing is that you can also use these erotic oils intimately. A yoni or a lingam massage with this oil is absolutely recommended and can genuinely be called a pleasure. Or go for the body-to-body massage, and use your whole body to pamper each other. The oil makes your skin feel wonderfully soft and gliding, without feeling greasy or sticky. The oil conditions your skin, leaving it soft and well-nourished. The oil continues to glide and the scents remain extremely stimulating.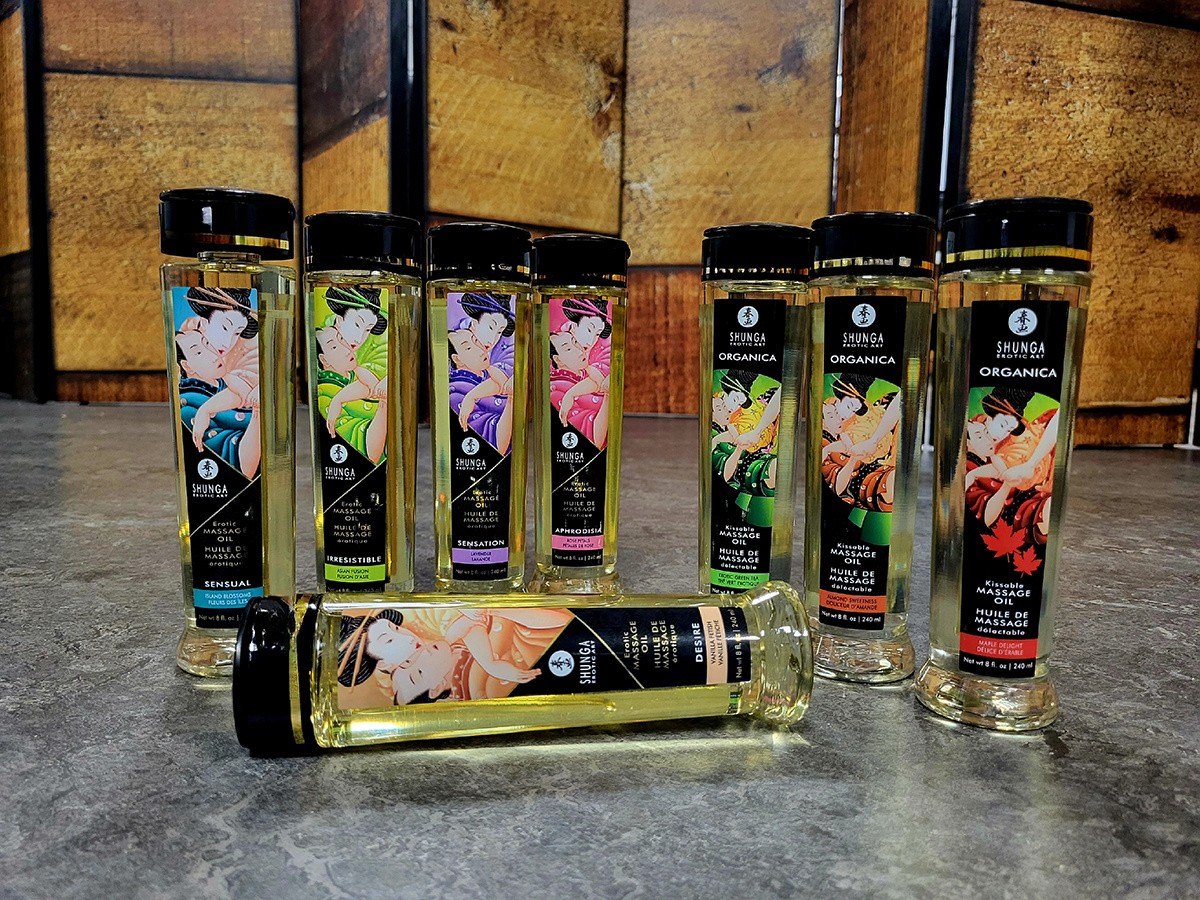 There are also erotic massage candles from Shunga. What can you do with these?
This lightly scented soy-based candle first creates the romantic atmosphere to get you in the mood. Once melted, it will function as a warm oil ideal for your intimate massage. Also based on 100% natural oils, these candles feature soft subtle scents that leave the skin soft and silky. The candle burns for up to 4 hours. The warm oil does not burn, but feels reassuringly warm to the touch. With careful use, you can even reuse the oil! This is because the oil becomes malleable again when it has cooled down sufficiently.
There is something else new! The Aprodisia warming oil by Shunga. What is this?
Just a bit different from a massage, but incredibly exciting to spoil each other with is this delicious edible warming oil. This oil is specially designed for the erogenous zones. Drop small drops on your partner's body, massage lightly and activate the oil with your breath and soft intimate kisses. As a result, the oil will release heat and add an extra sensation to your play. This oil is edible, so feel free to use your tongue in play. A heartwarming product!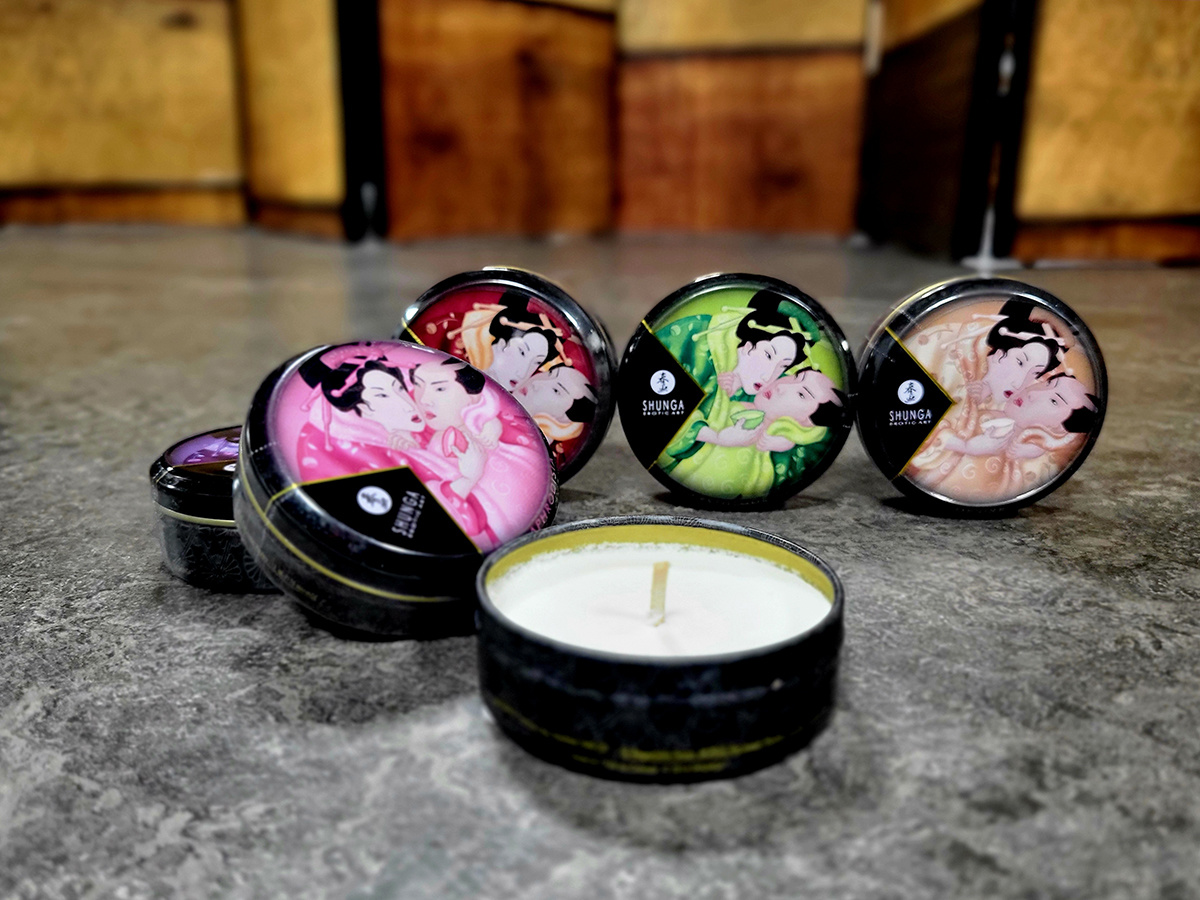 So feel free to drop by Yourl Lfestyle in Hoensbroek and let Shunga's challenging scents convince you. Rise to new sensual heights!
-------------------------------------------------------
Masturbators

When you think of sex toys & playthings, you probably think of vibrators and toys for women. But good news for all proud penis owners: At Your Lifestyle, we have a wide range of toys! So this time, let's talk about masturbators. Because quite honestly, men have absolutely nothing to complain about!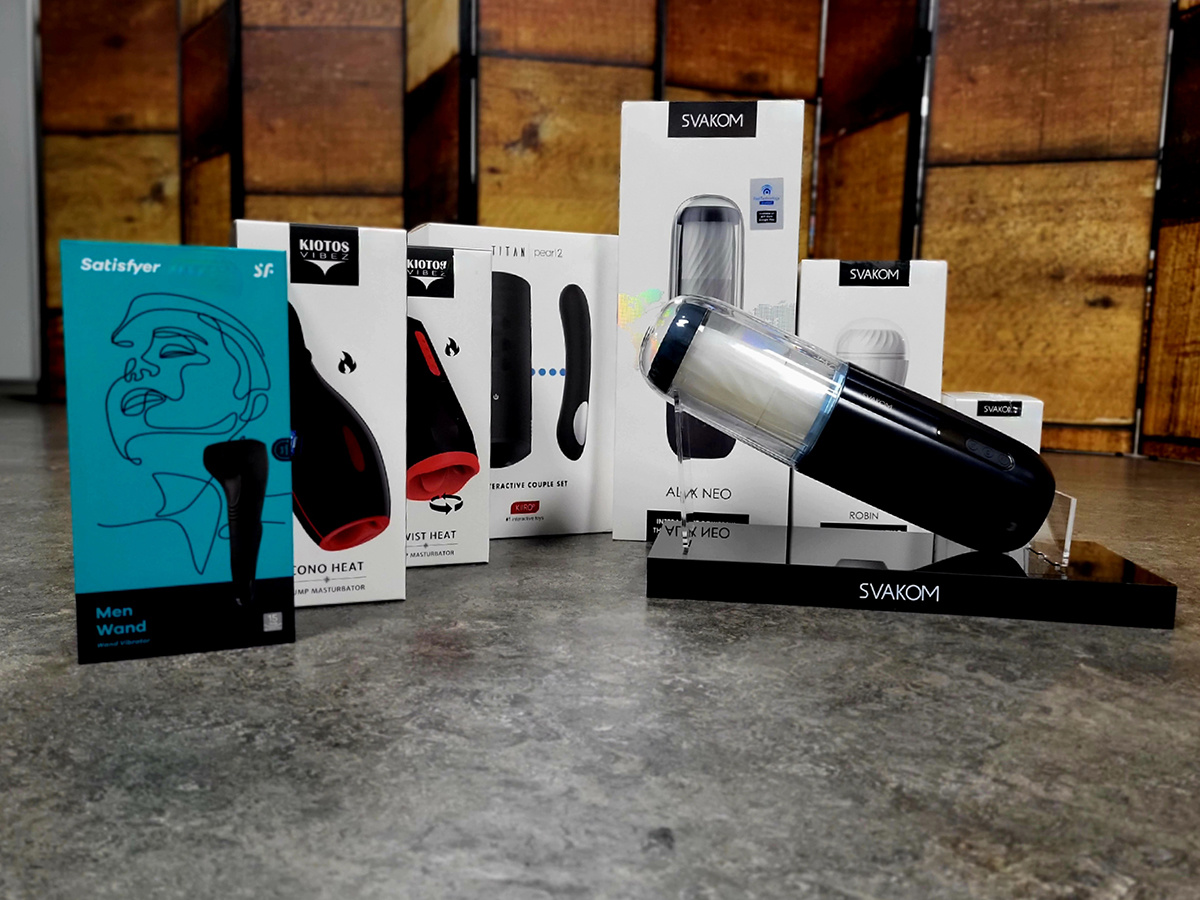 Masturbators are toys that allow you to take yourself or your partner(s) to explosive new heights. Other names you might have heard are sleeves, pocket pussies, fleshlights, tunnels or strokers.
They are toys developed specifically for men. They are designed to stimulate the penis by exciting the shaft, the glans and sometimes even the testicles. This is done through manual friction, but sometimes also movement,vibration and suction. Better-quality masturbators feel lifelike and are made of high-quality flexible silicone material. Don't underestimate the difference in material - it often pays to put down just that few euros extra for a huge difference in experience.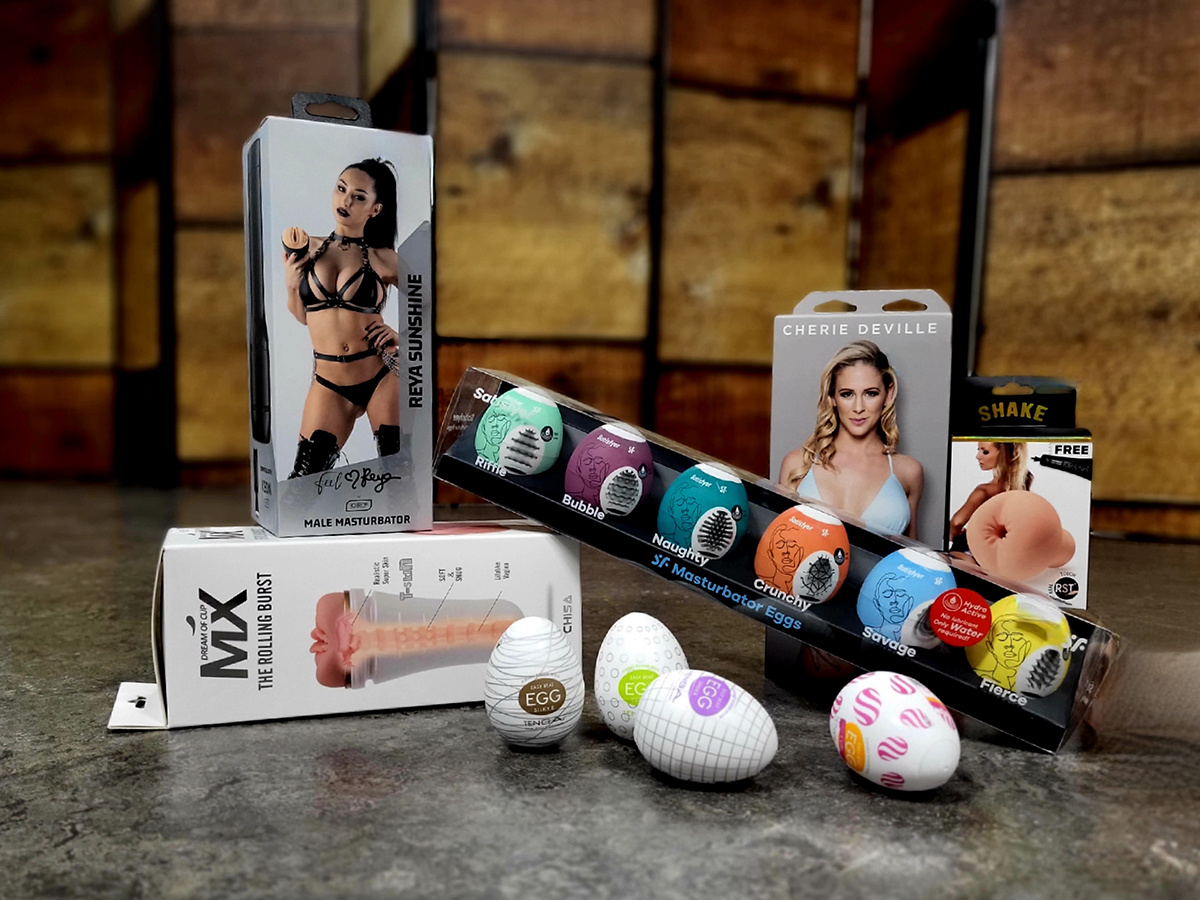 Like all other toys, we have all kinds, sizes and body-safe materials available in our showroom in Hoensbroek, Limburg (Koumenweg 3). Some cover the penis, others have an open end. you have ones that vibrate, you have ones that suck or rotate. Or all three. There are some that get hot and can even be used interactively. masurbators can be hard, soft, and some feel like a real vagina, anus or sucking lips. Yes gentlemen, lovers of anal or a blowjob (being sucked) can also buy a masturbator with confidence!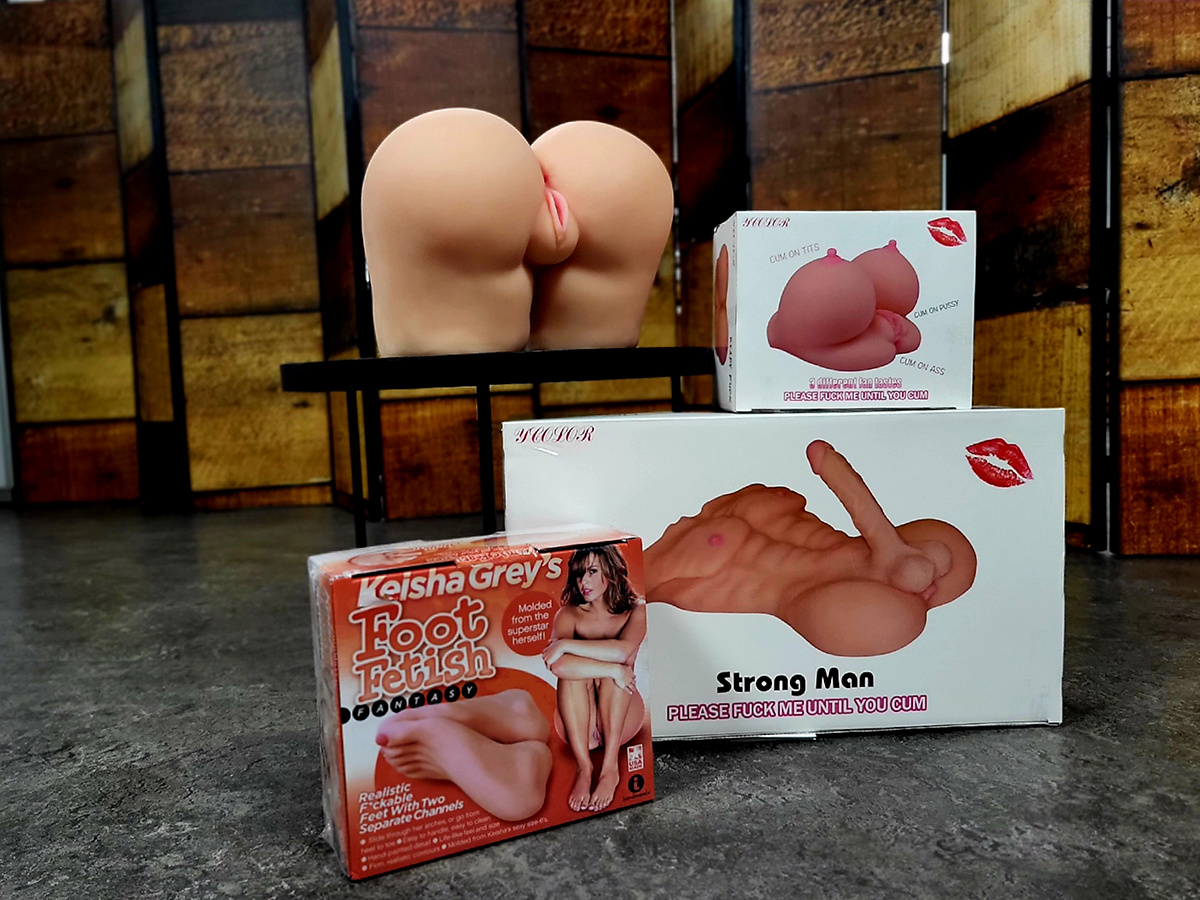 We list the main differences in functionality:
1. Manual strokers or tunnels are generally meant to be held in the hand while you - or your partner - move the stroker up and down the shaft of the penis. The textured interior, ribbed, corrugated, studded or patterned, stimulates the penis through friction; just like during sex, a jerk-off or blowjob. Extremely high-quality and popular models include Shake's tunnels and pussy, DocJohnson's full-fledged fleshlights (with Ultraskyn* Real Feel)
2. Automatic strokers are, as the name suggests, automated. These let you automatically enjoy stimulation and explosive orgasms through vibrations, rotations, heat, sucking and/or stroking. There are even versions that are app-controllable. Or models that are interactive (like with a porno film), giving you a grandiose orgasm.
A good example of an automatic stroker is Svakom's Sam Neo. A beautifully designed, interactive stroker with powerful vibrations of premium quality. Another good example is the self-heating Twist Heat Stroker by Kiotos Vibez.
The interactive vibrating masturbators are often of very high quality, and recently developed: Kiiro, for instance, is one of the manufacturers who introduce a lot of new developments in this. Among others, we have the hugely popular Kiiro coupling set. An interactive vibrating masturbator, and an interactive vaginal vibrator, which can be coupled for even more couples-fun! Well worth the price.
3. Pocket pussy's are practical, very discreet and easy to take anywhere. Usually, these are single-use versions, like the Eggs - masturbator eggs - from Tenga and Satisfyer. Your partner will also have fun with these! There are also more durable options, which can be used repeatedly after cleaning with a good toy cleaner (like our Kiotos Toy Spray).
4. Realistic mastrubators or even sex dolls are designed to mimic human body parts as realistically as possible. They are penetrable in the shape of, for example, a lifelike vagina, ass, mouth, a part or an entire human body. They even come in the shape of feet; men with a foot fetish can also come to us! Of course, there are also the necessary distinctions here. High-quality and realistic-feeling silicone remains the best, but also the most luxurious choice.
-------------------------------------------------------
Our range of glass toys

Have you ever considered a dildo made of glass? Because we understand that glass is not the first material people think of when it comes to sex toys.
But are you, like us at Yourlifestyle, also curious and curious about the pros and cons of glass? Then read on quickly.
Let's dispel the first myth right away. A dildo made of glass must be very fragile, right? The not-so-surprising answer is no. In fact, erotic dildos use a different kind of glass - a toughened material known as borosilicate glass.Even if it breaks at all, this glass does not shatter but breaks into cubes. These dildos can not only take a beating, but also withstand extreme hot and cold temperatures.
This brings me straight to several advantages of glass over, say, TPE or TPR as a raw material for a toy. For instance, glass not only offers firmer and more solid stimulation and penetration but it is also sensitive to temperature. So you can cool them down or heat them up as you wish; just think what this can add to the sex game you are having with yourself or your partner! For example, think about an external massage of your erogenous zones such as nipples, the clitoris. Here in Heerlen, temperatures are already running high at the ideas of the possibilities. A frozen glass dildo? Play with temperature and discover a new dimension!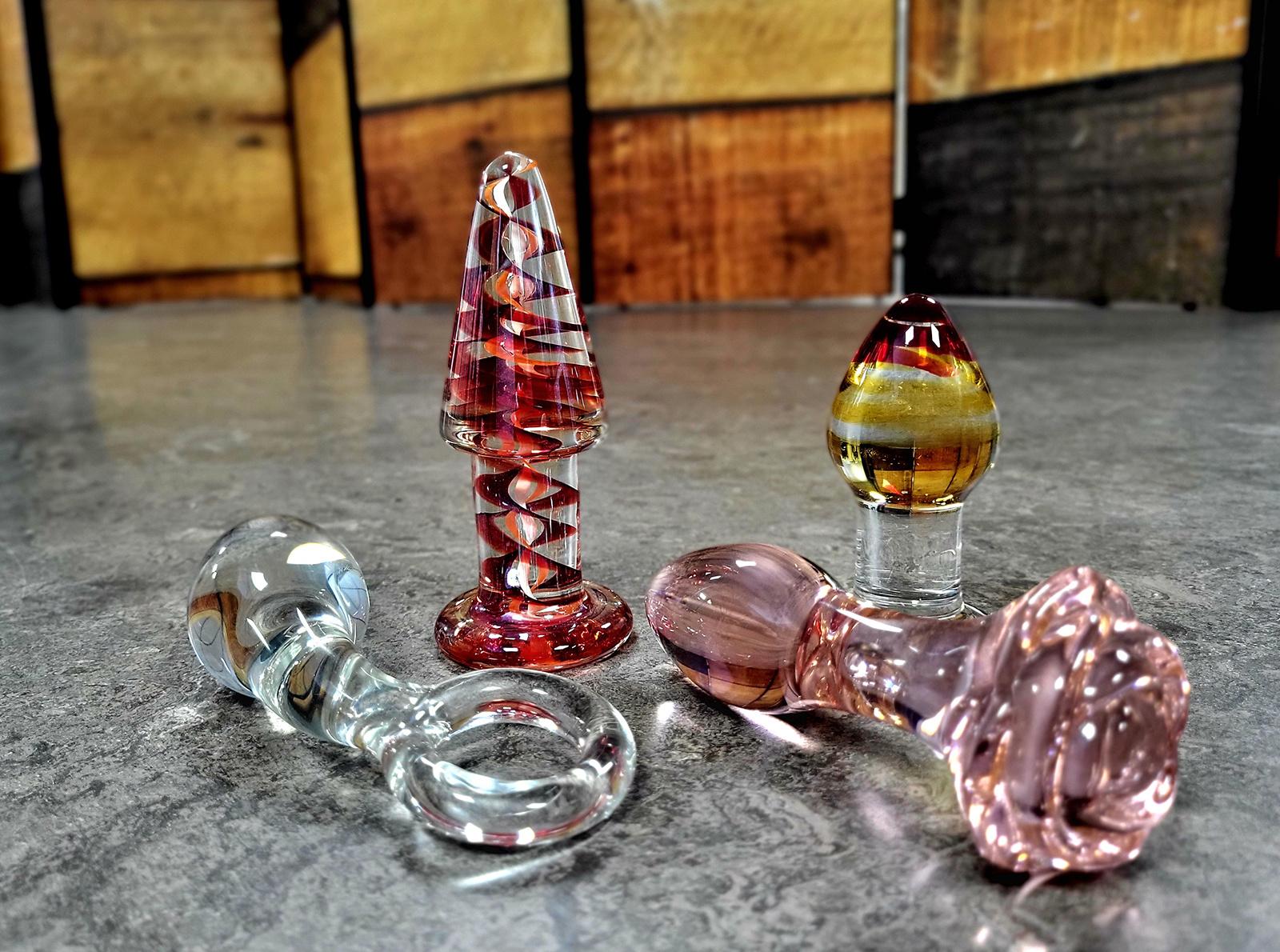 What is also nice about glass sex toys is that unlike silicone toys, these toys can be used with any kind of lubricant or massage oil.
One of the biggest advantages of glass dildos is hygiene: they are very easy to clean and sterilise. Because they are free of latex, phthalates and other chemicals, they are hypoallergenic and safe for your body. Borosilicate glass will not scratch easily, is non-porous and will not retain bacteria after cleaning with a toy cleaner, for example. So it is ideal for all openings you and your partner like to use!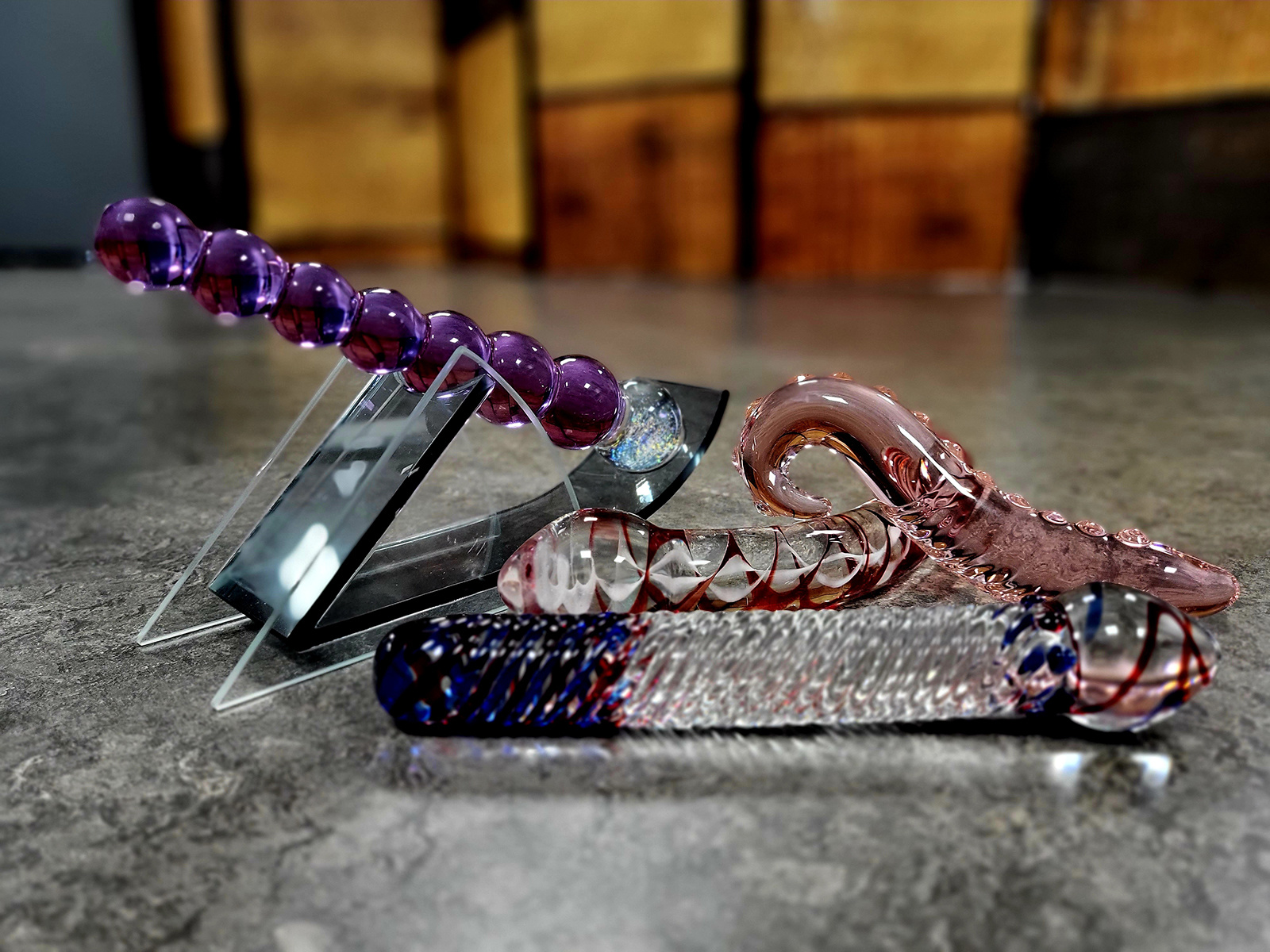 Tired of your toy? It can go straight into the bottle bank, as glass dildos are recyclable, making them even a very eco-friendly choice.
Glass dildos are actually very beautiful and challenging works of art that are perfect for experimenting in your erotic play. Elegant, with beautiful designs; with internal or external crisp colour combinations, geometric shapes or totally transparent.
In our showroom at Koumenweg in Heerlen, we have selected an exciting range of glass dildos and plugs for you from the well-known brand Kiotos and more. We have glass toys with ribs, studs or beads for you.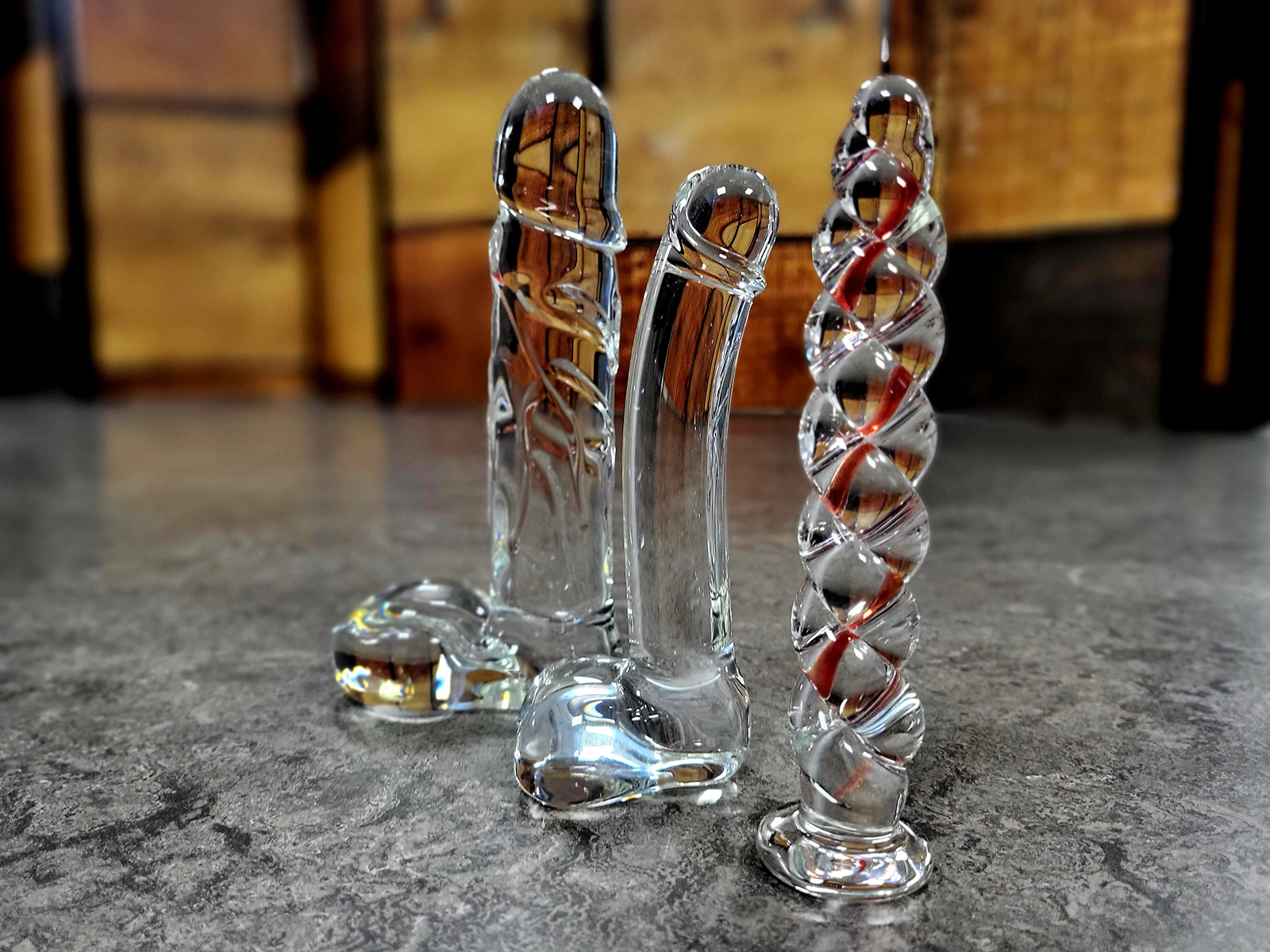 If you have now become curious, but find it difficult to choose, we are of course here to help you! As always. Honest, trusted and judgment-free. That's what we at YourLifestyle stand for.
-------------------------------------------------------
Wand Vibrators

There's a good reason that wand vibrators been in high demand among sex toys for years. This vibrator gets its name from the English word "Wand" meaning magic wand. Originally intended as a massage device for the body, the massage wand was soon discovered to be an incredibly fine vibrator for the erogenous zones.
All wand vibrators feature different vibration modes and speeds and give vibrations that vary from very deep to somewhat shallower. With their comparatively large head, wall vibrators stimulate a larger area than pinpoint stimulation. We do recommend using a water-based lubricant or massage oil. This is because it ensures that the wall massager glides easily over the skin and this makes the massage and stimulation more comfortable.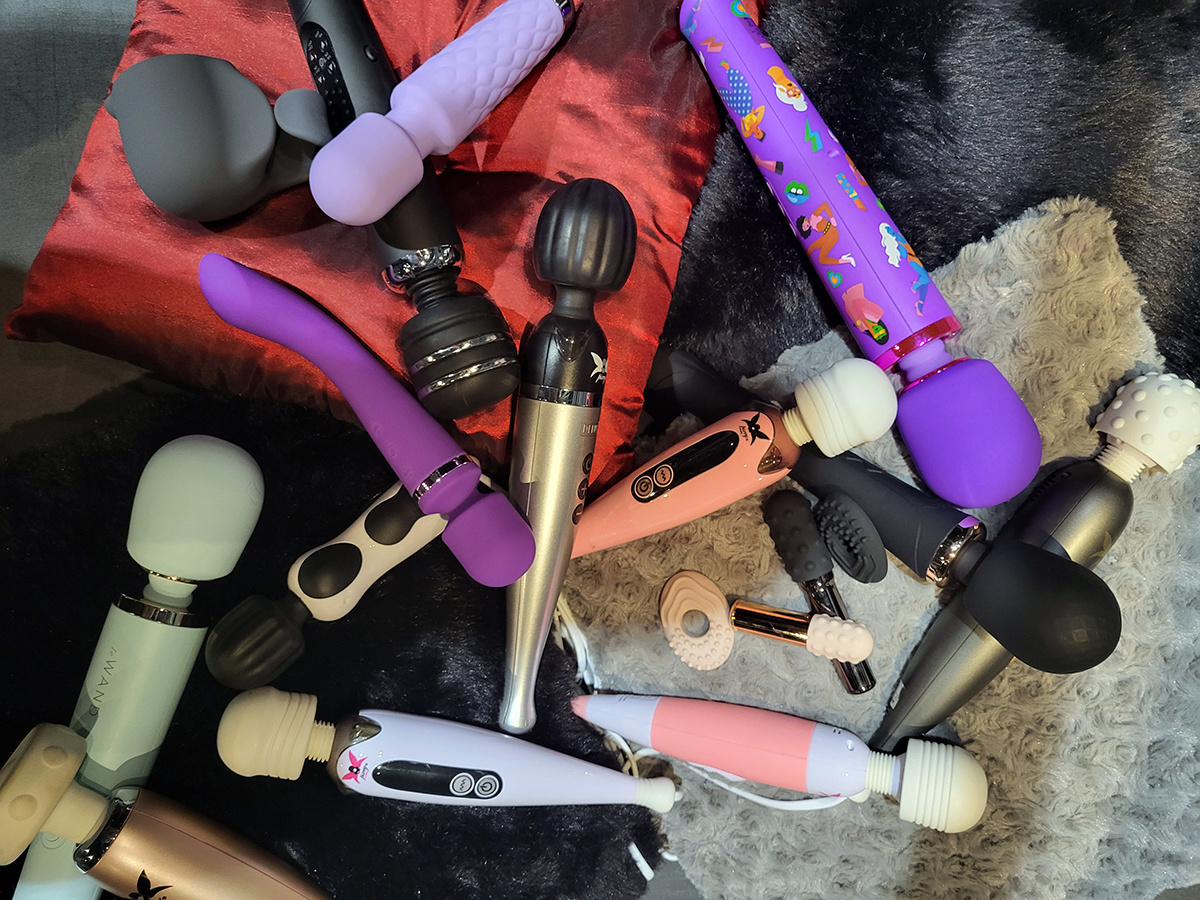 You can use it for intimate massage, as a nice foreplay, but you can also use it to stimulate the sensitive areas of the body such as the nipples, clitoris, penis and testicles on yourself or each other. The anus, G-spot or prostate is also a nice spot to pamper with the wand vibrator. A big advantage is that a wand is multifunctional and can be used by everyone whatever sex part you have.
There are now many wand massagers on the market: there are battery-operated, corded, large, small, in bright colours and with electro pulses. There are also all kinds of special attachments available with which you can transform this external vibrator into a vibrator for internal stimulation. These attachments actually turn your sex toy into a new toy for you or your bed partner in no time.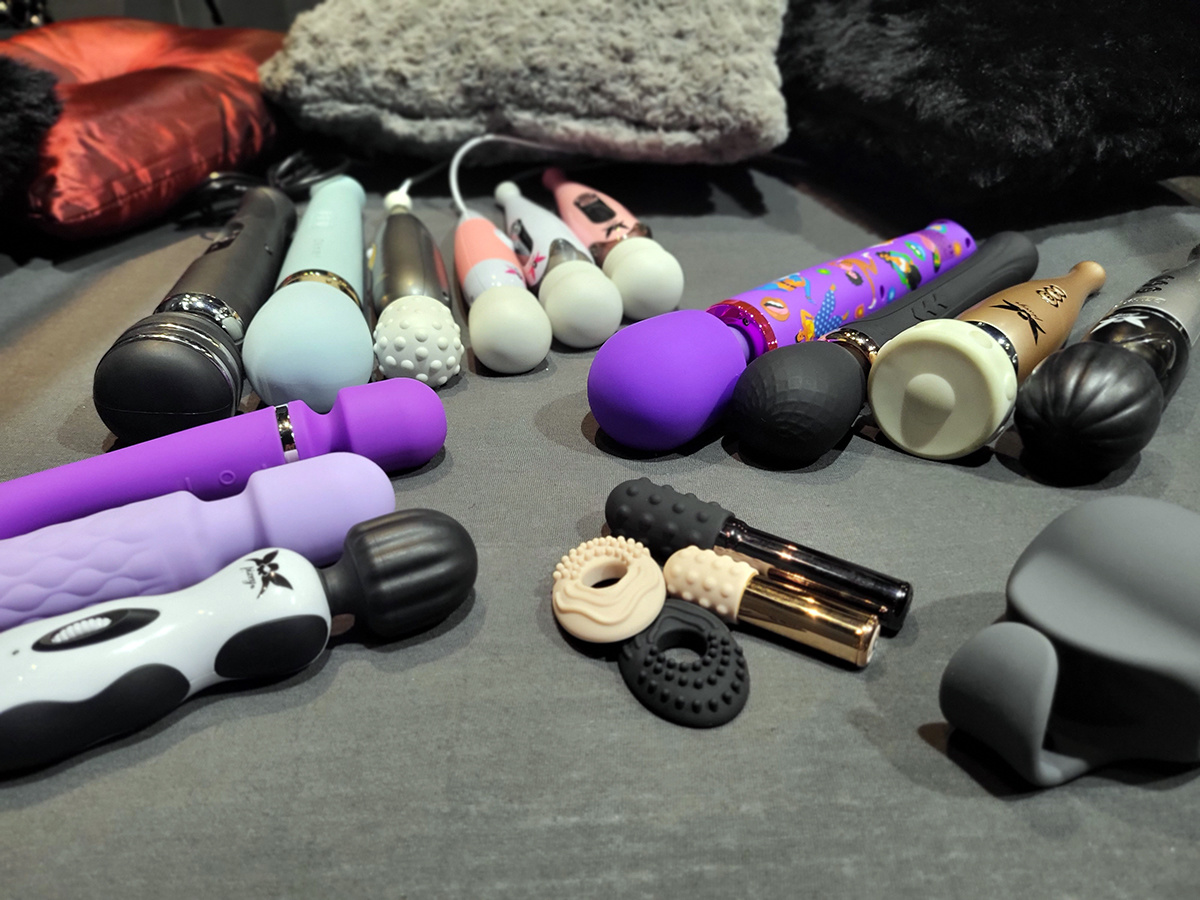 At You Lifestyle in Heerlen you will find all well-known brands like Pixey, Le wand, Kiotos vibez have a wide range of wand vibrators that allow you to experiment to your heart's content and experience the pleasure of the different vibrations.
-------------------------------------------------------
Black Swan Designz

has set itself the goal of bringing "captivating" lovemaking out of the dark. We are convinced that for a sensual, exciting experience, quality, comfort and design must not be missing. The Black Swan product range is elegant, soft, comfortable, durable and on a whole different level when it comes to bondage-gear suited for play.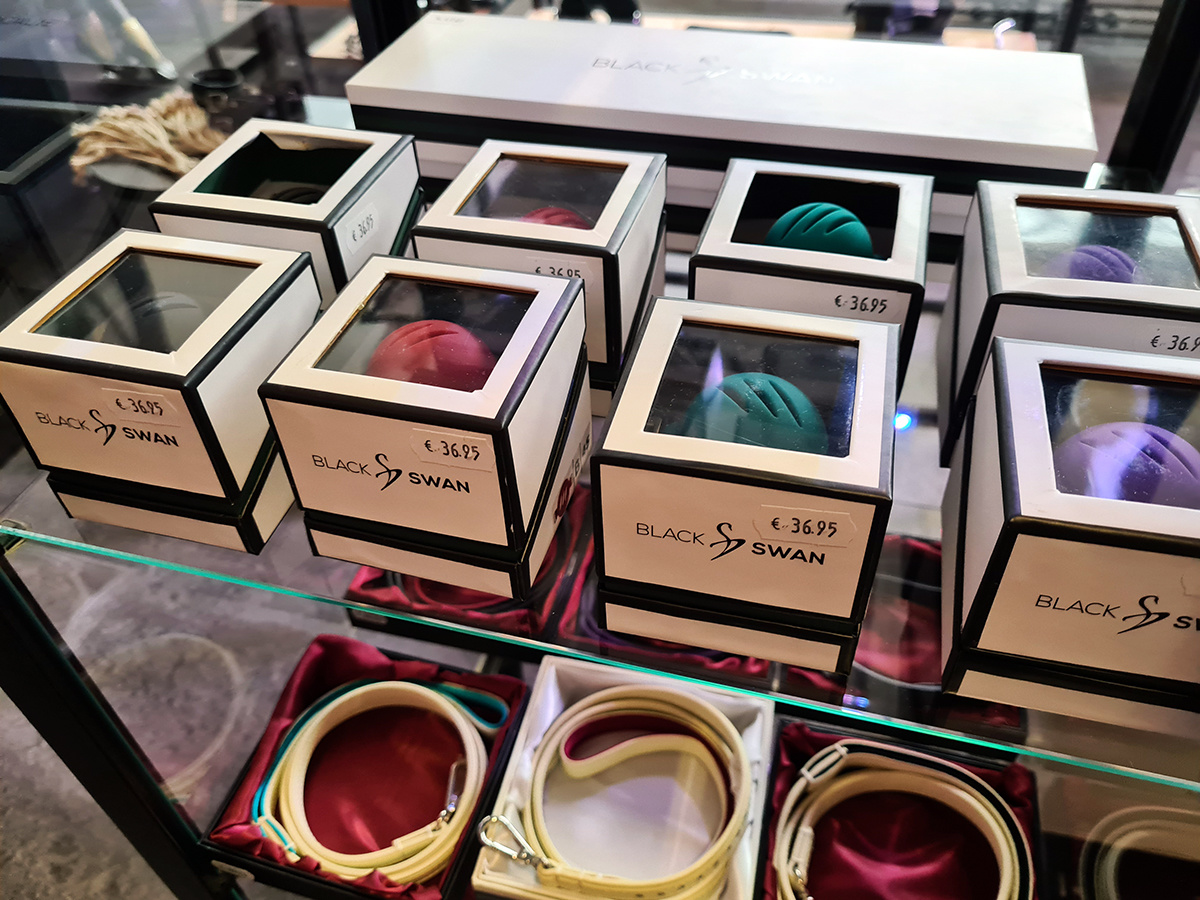 Black Swan has a mission: In the pursuit of perfection, they are committed to making the highest demands on the quality of the materials, the functionality and the design of our products. Every product goes through an extensive test procedure and is provided with a clear quality label. They only work with selected suppliers who share our ambitions. The BLACK SWAN brand stands for an unconditional promise to these demands and to the creative innovative power in the design and development of our product range.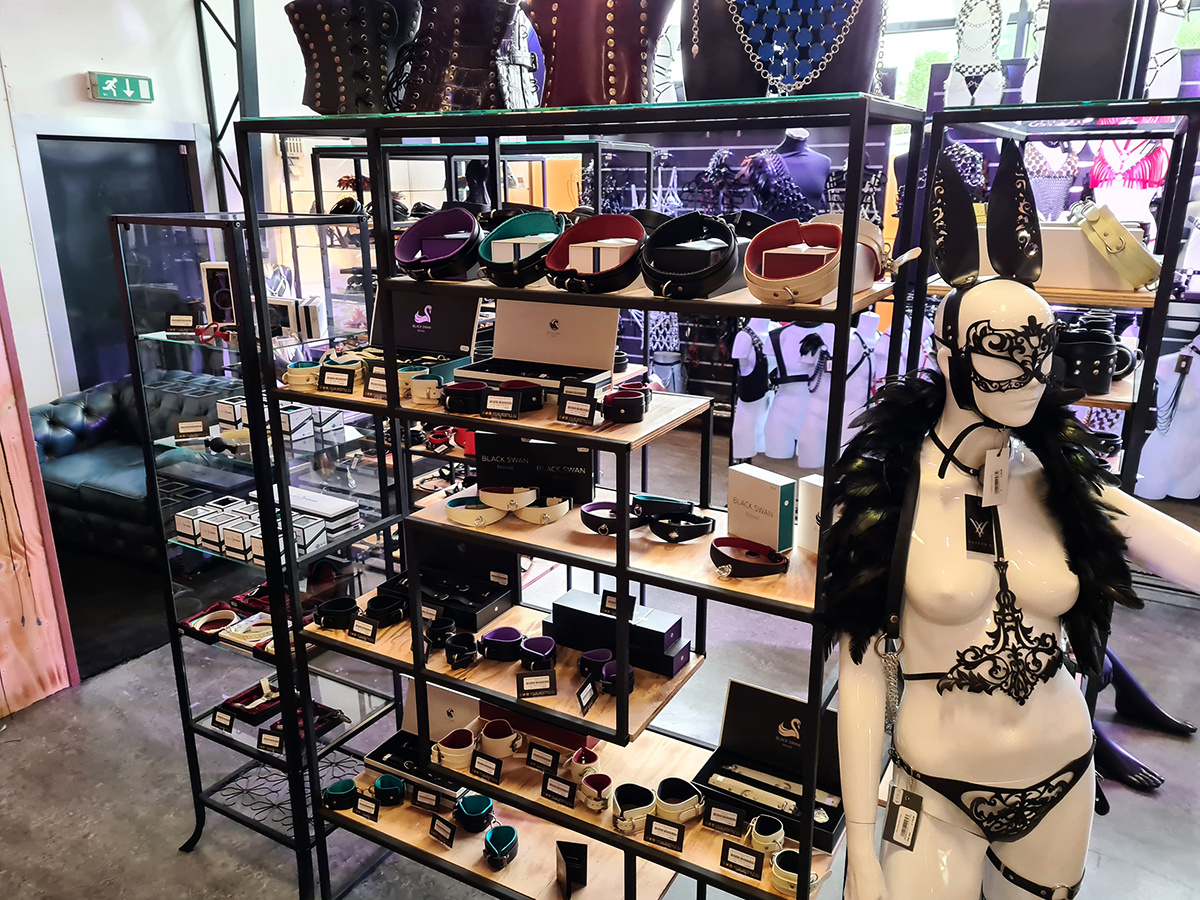 Why Black Swan?
Because it LOOKS good: Thin padding, high-quality real leather, unusual color variations and coordinated metal elements make our products real eye-catchers in every situation.
Because it's PLEASANT. Breathable and easy-care inner fabrics, rounded edges and individually fitting sizes (S-M-L) without overlaps ban "one-size-fits-all", minimize annoying sweating and ensure unique wearing comfort - even for hours or a whole day.
Because it WORKS. Individual sizes, buckles that close perfectly, integrated reinforcements and carefully placed rivets and seams ensure that everything stays in its place, high loads are no problem and long-term enjoyment with Black Swan products is guaranteed.
Black Swan combines exclusive design paired with functionality. They leave no detail untouched. The intricate design process accounts for even the smallest details, such as the uniquely designed buckles. A custom "Black Swan" mark is graved on each and every product, because Black Swan proudly shows the creations.
Black Swan has several different product categories. Collars, handcuffs, ankle cuffs, thigh cuffs, leashes and hogties. A completely separate category, brand-new in their development, is the detachable gag system. Combine ring-gags (40mm), closed ball-gags (40-45mm) and open ball-gags (40-45mm) with the easy to connect leather straps. You just need one strap: with it, you can freely decide what gag you want to use!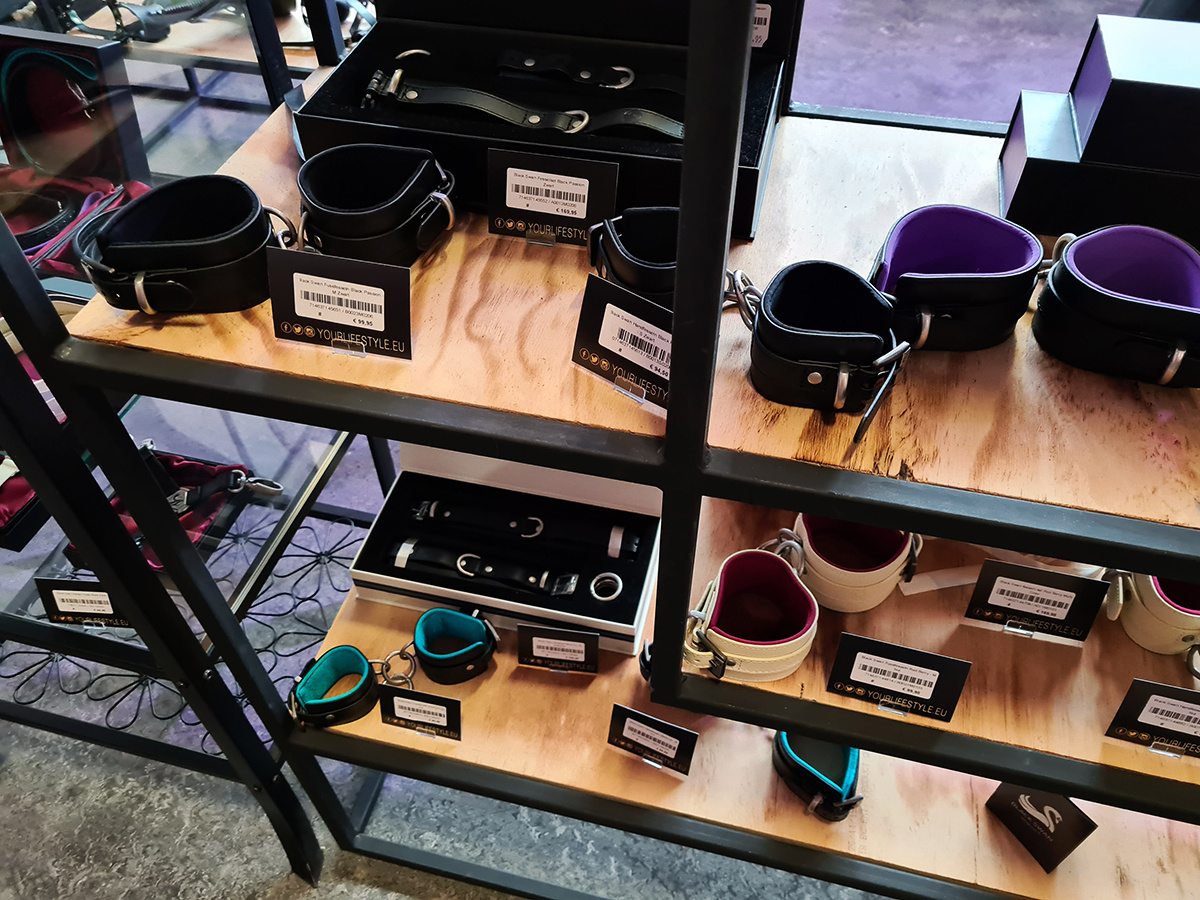 Black Swan has unique color combinations to choose from. Black Passion, Black Berry, Black Purple, Black Ice, Red Berry, Blue Ice, Black vanilla. All bondage equipment is available in these colors. You can choose from either black or crème white leather, with a colored accent (red, purple, ice blue, black or white). This means you can collect your own full Black Swan collection in the color of your dreams!


-----3-----



The world of electro play!

Electro sex is a way of stimulating the sexual organs and erogenous zones through electrical stimulation. The human body is largely composed of water, which makes it an excellent conductor of electricity. Both men and women can enjoy the sensations of electrosex. Using an electronic sex toy, electricity can stimulate nerve endings and thus create different sensations.
"The human body is largely made up of water, which makes it an excellent conductor of electricity"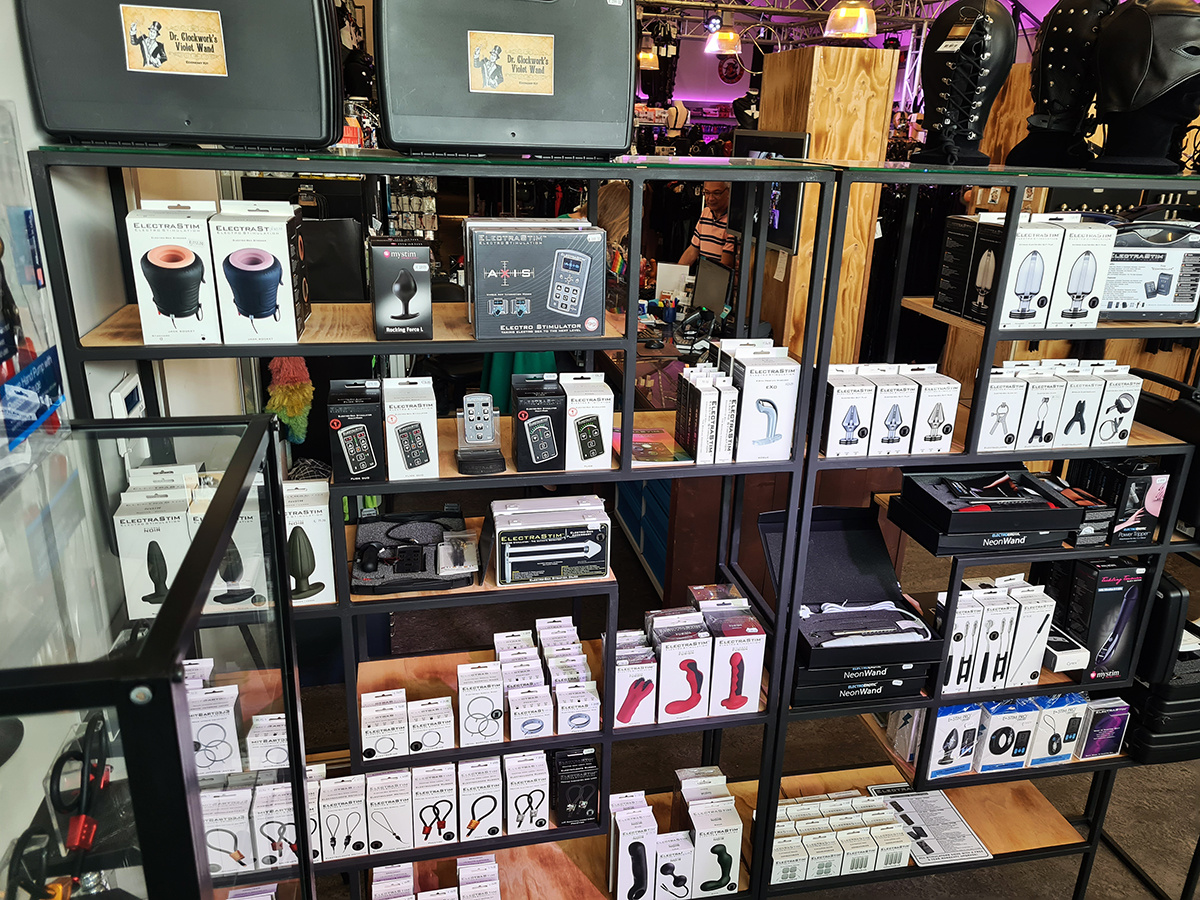 From light vibrations to firm pulsations, almost everything can be set using the control unit. Two or more points on the body are fitted with an electrode. The area between these two points is then 'stimulated'. For men, electrodes are placed around the anus, the scrotum or against the base and the tip of the penis. For women, the clitoris, labia, vagina and anus are the most popular areas.
Does it hurt?
Although stimulation with electricity is still often linked to BDSM, electrosex does not have to hurt at all. Of course it is possible to hurt the body, but electrosex involves much more than that. You and/or your partner have control over the level of stimulation. At a low intensity, you may feel a slight tingling. By turning the knob a little forward, it will start to tickle slightly.
"Although stimulation with electricity is still often linked to BDSM, electrosex does not have to hurt at all. At low intensity, for example, only a slight tingling sensation can be felt."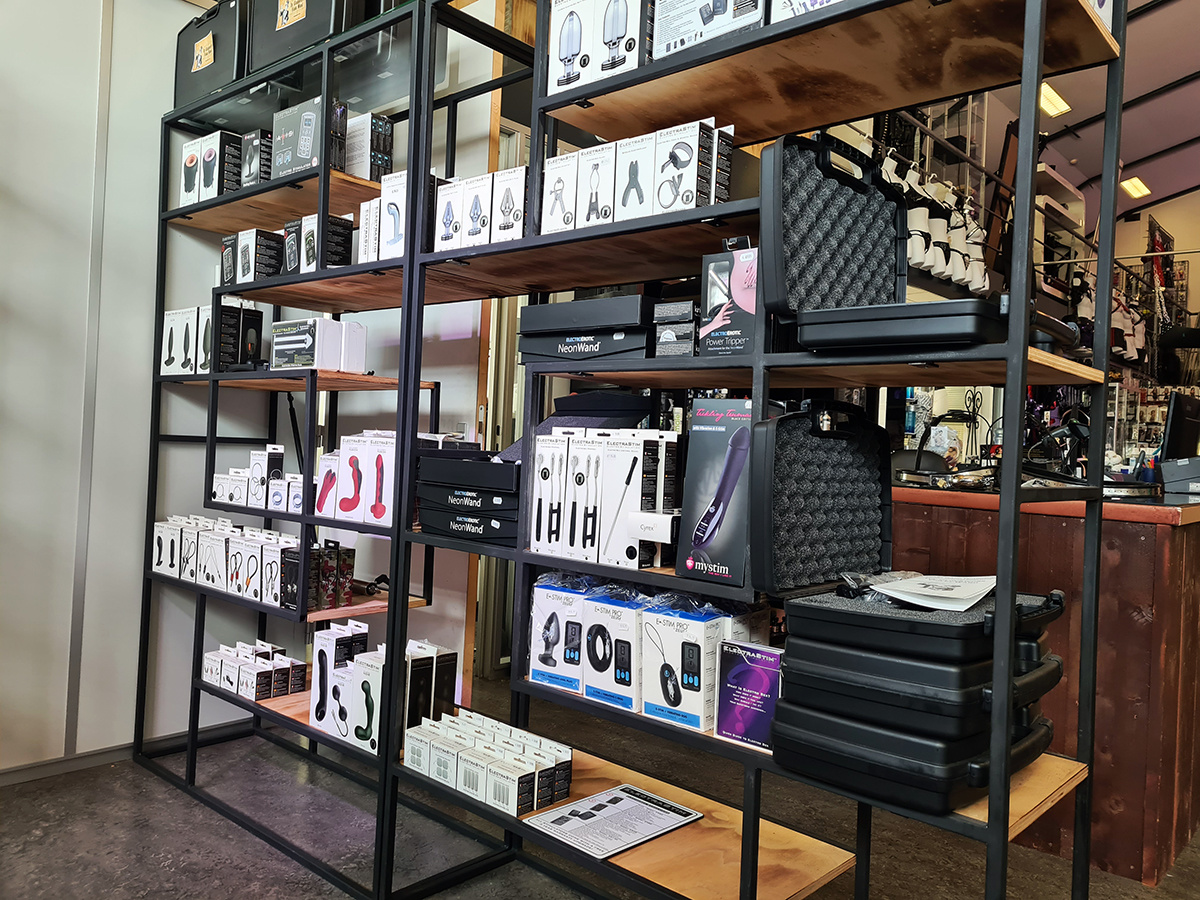 When the electrodes are connected to the erogenous zones or genitals and can be used on a light setting excellent during foreplay. By increasing the intensity further, a more stabbing pain can be felt in the long run. You are stimulated more firmly and the sensation is similar to that of penetration. The muscles can start to contract, resulting in a violent orgasm. Without having to use your hands!


-----2-----



Latex Heaven in Hoensbroek!

YourLifestyle is latex heaven for anyone who has fallen in love with the wonderfully erotic material. Latex exudes sex, style and luxury. Wearing the fabric gives you a unique feeling, that no other material can beat! We are one of the very few stores where you can be mesmerized by the outfits and try one on for yourself. You did not fall in love yet? You absolutely will!
YourLifestyle has recently started working together with Ardita Fetish Fashion, owned by a designer couple who create flawless, perfectionist, gorgeous latex outfits in their own studio. We are proud to be among the very few exclusive stores that have Ardita handmade latex in our collection.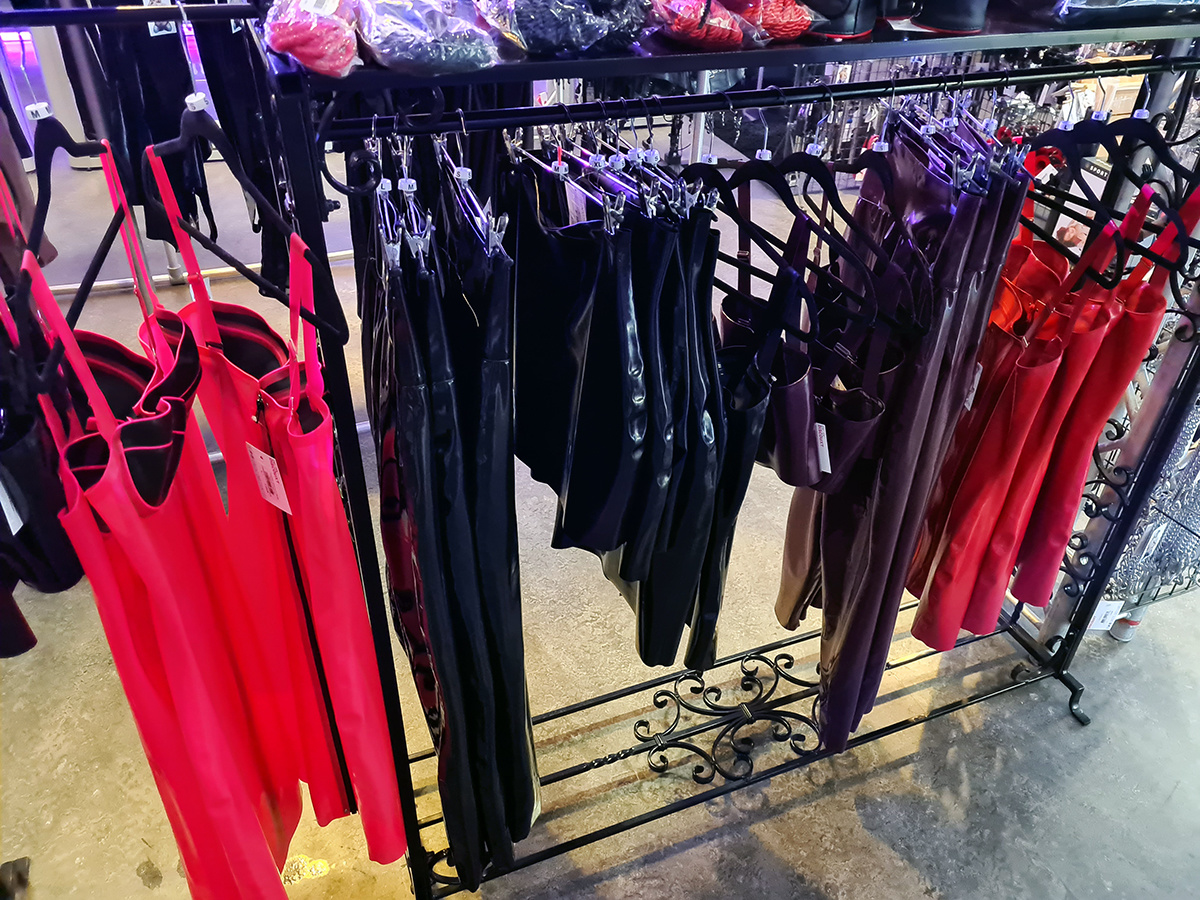 One of their unique design-categories is the 'Alexandra' model.

The leggings and skirts come with a 0.6mm reinforced waistbelt to enhance your figure even more! The tops, jumpsuits and dresses have very elegant cups, adjustable shoulder straps and near indestructible hooks in the back. Take this special opportunity to combine one of the gorgeous bras or tops with a pair of premium crafted leggings. You will absolutely steal the show. Our current collection includes a variety of colors: black, red, ruby and even vibrant Magenta!
Besides our happy collaboration with Ardita FF, our collection also includes some classic Peter Dominie latex (men & women), and some more affordable outfits for the enthusiastic first-timer.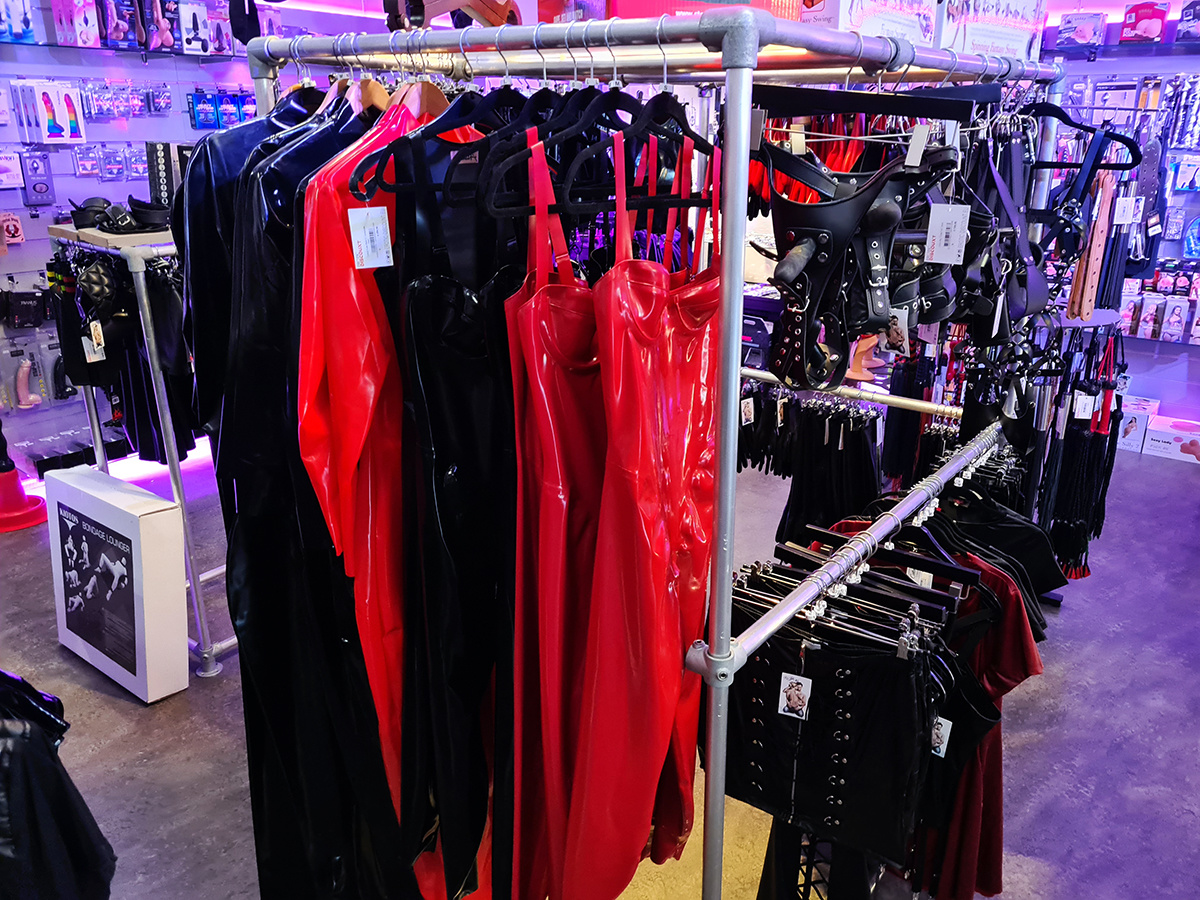 What kind of latex outfits can you expect to find in our store?

Tube dresses, catsuits, jumpsuits, garter belt dresses, mini dresses, miniskirts, pencil skirts, lingerie (thongs, strings, high waisted Brazilians), bras, tops, leggings, stockings, gloves (in all lengths), fashionable waist cinchers, shirts, vests, polo shirts, cargo shorts, trousers, the occasional uniform and much, much more!
We only sell our latex in-store! We want our customers to be certain of what they buy. Our advice, help and expertise is often needed and happily given by our employees. This includes explanations of latex care, products, treatment and storage of your showstopping pièce de résistance!


-----1-----


Singletail Whips are a Way of Life!

Your Lifestyle offers an immense range of impact tools in our physical showroom. From canes, to floggers, paddles, crops, ticklers and whips. From very soft to extremely hard. Made out of rubber, leather, fibre, wood, metal and more. From simple and cheap to intricate and durable.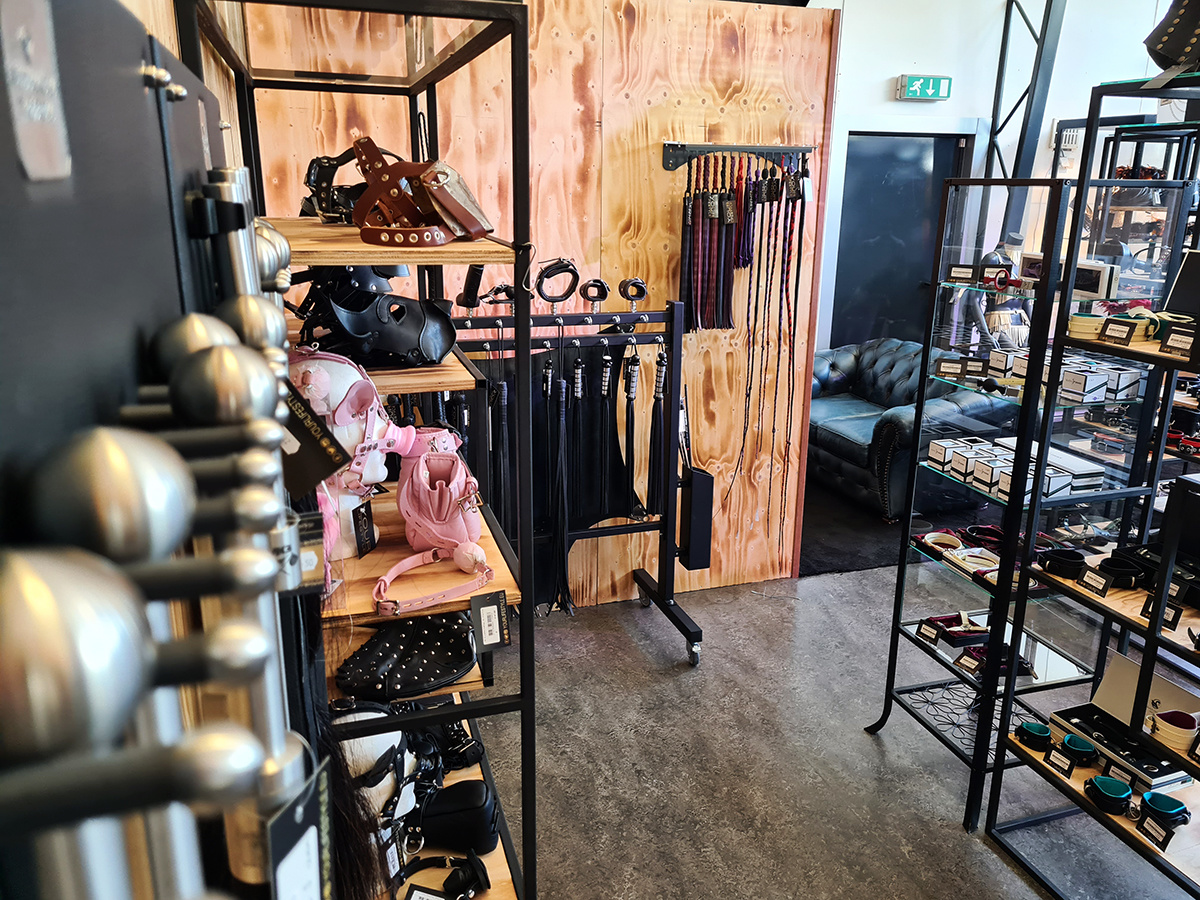 On the top-end of of this abundant spectrum, are our paracord Singletail Whips.

Handbraided with the greatest care and precision. Every single one of these whips is cherished. They are tested for balance and performance, durability, flexibility, handling and approved by our very experienced whipmaker.
Their aim is true. Their crack is deviously loud. Their speed and ease of use are shockingly great. But that isn't the end of it. Because Our whips are built in a unique way; they're made with slender loops at the fall and cracker. Meaning they are segmented. No knots that break the streamline or made the whips clumsy. And on top of that, it makes for a fantastically versatile and durable whip! You can replace the cracker ánd the fall easily with a large variety of other accessories. For instance, short & long dragontongues on the sáme whip, replaced in a few seconds! This way of building whips allows for whips that are versatile, streamlined and whips that can withstand the test of time. Worn pieces can be quickly replaced and your whip will be good as new!



Our paracord singletails come in different varieties:
The 3ft Bullwhip
A staple for everyone into singletail whips. Their handle is rigid and their length is ideal for both indoors and outdoors. Easy to handle and packs a tremendous punch!
The (2ft) microbullwhip
A small, yet powerful whip! It has a rigid handle and is extremely useful for smaller spaces and indoors. Without taking away the sting when receiving a hit and the glorious feeling it gives when using it.
The 2ft Snakewhip
This small whip with a flexible handle makes for a fierce opponent! Slightly more difficult to handle, but in the hands of a true artist it is deadlier and more accurate than a cobra!
The canewhip
This model is unique and developed by our whipmaker. This singletail whip combines the rigidity and ease of use from a cane, but adds the sting and fun of a bullwhip! Extra fun for caning the ass, and wrapping the whip around for a double hit in front. Their versatility is incredible. Easy to use in small spaces and in various ways. This is by far the easiest singletail to use, even for those that find their cousins too daunting or complicated to handle.
We try to have these models in our three basic colourpatterns (black, black/red, black/purple) in the store at all times. But keep in mind that these whips are handmade with great care; it takes time.
Aside from our basic colourpatterns, customers have the option to select their own individual colorschemes! They will be custom made and unique. One of our employees has her own Rainbow Bullwhip!
In short: our paracord whips are magnificent pieces of craftsmanship and a lot of fun to use.
Come to the showroom to test them out or ask for additional info.